4 Top Tips For Families Skiing Together
Like many family activity-based trips, ski holidays can really test the patience of any parent. Never mind breaking up bickering and sibling rivalry, when you throw snow and expensive equipment into the mix, you've really got a challenge on your hands. However, when you get it right, the benefits of a family holiday are unrivalled.
If you're ready to get plans underway for next season then click on this link and complete our short survey. We'll then come back to you with some fantastic options to kick things off. If however you're still in need of some advice before committing then here; we offer four top tips for families embarking on a skiing holiday together:
1. Take lessons - practice makes perfect

No matter the skiing ability or level of your family members, it's always a good idea to practise before heading to the slopes. This will not only help to improve your technique, but it's a good way to spend time with your own children and another family (even if it's just a few members of each family).
What's more, you won't be wasting valuable time on holiday learning the basics. There are several dry slopes in the UK to brush up your skills such as The Snow Centre in Hemel Hempstead and Chill Factore in Manchester. Just make sure you book lessons in advance to secure enough spaces.
Another bonus to taking lessons in advance is that you can prepare yourself mentally and physically for the real thing. If you want to be super prepared, take the kids out every weekend in the lead up to the holiday. Any exercise, whether it be walking, swimming or kicking a ball around will do the world of good and get your body ready for a long day on the slopes. Everyone knows that exercise is the best way to blow off steam, enjoy yourself and avoid getting on each other's nerves.
2. Hire equipment in advance or check with you holiday provider

There's nothing like being unprepared for a skiing holiday and discovering the resort is out of the type and size of equipment you need when you arrive. Reserving the equipment you need in advance can end up saving you money, the bother of having to do it when you get there, and the disappointment of not getting what you want because you've left it too late. Luckily however Vaujany is relatively small and has four hire shops to service your skis and provide essential ski rental, of all different shapes and sizes. Our partners Ride4Life have ample to offer and prefer that you wait until in resort to ensure you are completely 100% satisfied with what equipment you receive.
If you're going on an organised holiday, most tour operators will help with equipment hire, as well as lessons and ski-lift passes in advance, so that you don't need to do it yourself. Our rep will even deliver the passes to you, wherever you're staying!
3. Entertainment off the slopes

You may be travelling with young children or toddlers, and need an extra hand when it comes to keeping them entertained. An option could be looking into childcare for all or just part of the day, so that you can enjoy a day on the slopes without a child in tow. Some resorts will even have crèche facilities and certain operators specialise in providing qualified staff to look after your children so that you can make the most of the slopes. If this is something you'd consider, make sure you book it far in advance because the demand for childcare services can be high. Luckily Vaujany's well acclaimed and priced and creche and garderie are located right by the leisure centres, allowing the groups to take of advantage of the facilities.
To help pass the time for the older kids – particularly the time spent off the slopes – make sure to bring as many books and games as you can. Taking a tablet device with a selection of films and games is also an option recommended by many, and can even be enjoyed by adults too.
4. Don't forget your winter sports travel insurance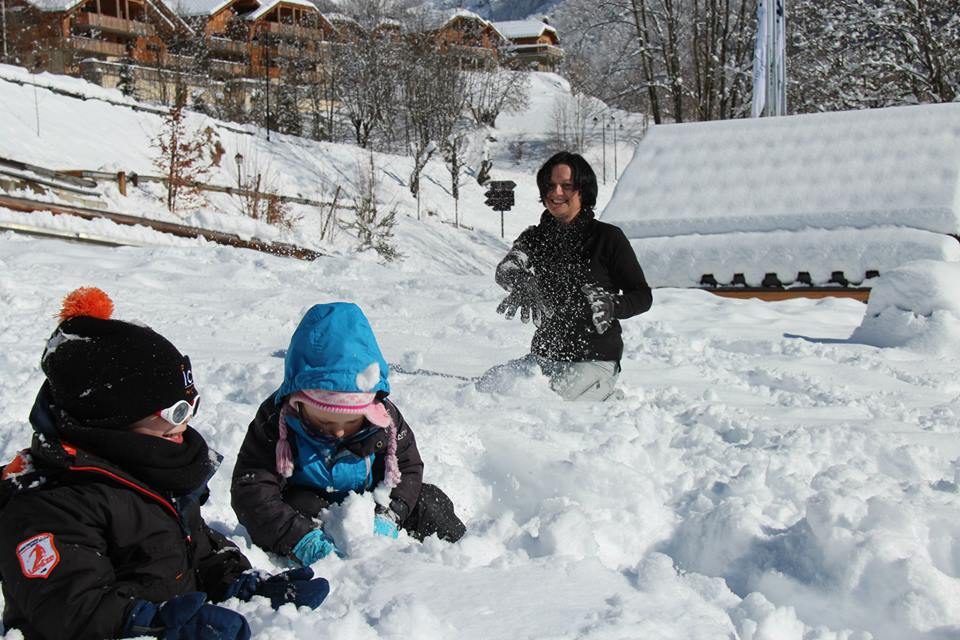 Whatever you do, make sure you take out winter sports travel insurance before you head off on your skiing holiday. A simple accident can cost thousands once repatriation and medical costs are taken into account.
Astonishingly, of the 1 million Brits that jet off to ski each year, as many as 17,000 will return home on crutches. After saving up to treat yourself and your family members to a long-awaited skiing holiday with friends, the last thing you want is to shell out a huge sum of money on medical costs, or even something as simple as losing equipment.
Make sure your family ski trip remains in your memory as the fun and exhilarating holiday it should be, and don't let something as simple as travel insurance get in the way.
P.S. If you're feeling inspired to get your winter holiday plans to Vaujany in motion, answer a few brief questions by clicking this link and we can get the ball rolling.