7 Things To Do On A Winter Holiday
Winter is far from a boring season. Even though for a lot of people, a winter holiday means more time indoors, cuddled up on the couch, which is fine, but there are so many fun outdoor activities that you can do. So, if you're looking to switch things up this season, in this article, we provide top tips to help you enjoy your perfect winter holiday. If you know you want to head to the mountains, then fill in this short form and let us know what you are looking for, we'll come back to you with some perfect options.
1. Try cross-country skiing with some friends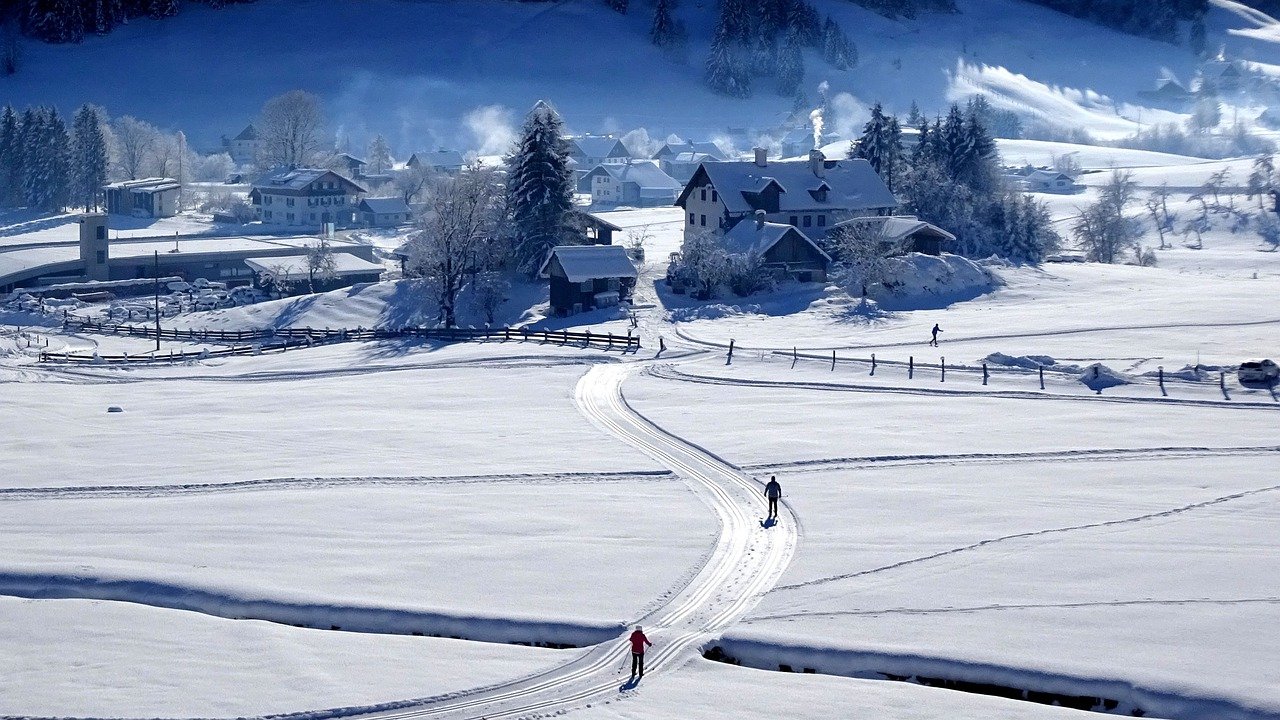 Image by wurliburli
Nordic skiing, also known as cross-country skiing (ski de fond in France), is a great way to spend a day or two of holiday, exploring new snowy terrain with your friends. It's suitable for beginners as the equipment is lightweight, and you're skiing on predominantly flat, groomed cross-country trails.
But, this doesn't mean cross-country skiing is easy. It's actually a full-body, energizing, aerobic workout, and it's recommended by many health professionals. So, when you want to spend some time in nature, in a peaceful setting away from the crowds, and have fun with your friends, then this is the perfect activity for your holiday.
2. Hire a guide and go ski touring in the backcountry

Image by Bastian Riccardi
This is a more challenging activity that is definitely worth trying when you want a memorable winter holiday. With your guide, you are discovering new terrain in an unmarked area beyond the borders of the ski resort, otherwise known as 'off piste'. You will get a chance to go back to the roots of skiing; climbing up slopes before skiing down. Sounds tiring right? But, the equipment is fit for purpose, with 'skins' on the bottom of your skis, enabling you to grip on the up-hill and not slip down. Your heel is able to lift up off the ski, enabling you walk fairly normally with your skis on.
It's worth mentioning that you are surrounded by wild, breathtaking scenery, and this sport will definitely put your skills to the test. However, if you don't feel ready, then you can also take a course on backcountry touring and improve your ski skills.
3. Try snowboarding

Image by StockSnap
There are so many reasons to give snowboarding a try, especially if you like skiing and you're ready to try something new. You should take snowboarding lessons no matter what, it's great to have a solid foundation and to not pick up bad habits from the onset. Experienced skiers won't have a problem getting into snowboarding and experiencing the same ski slopes from a fresh perspective. It's a thrilling activity that will definitely turn your holiday into a snowboarding adventure. The hardest thing will then be choosing which on to do on your holidays.
4. Schedule downtime

Image by Peggy Choucair
You're still on holiday, so make sure you have enough time to rest, relax, and have fun indoors. You can take your favourite book with you and enjoy a moment of peace, viewing snowy mountain slopes.
But you can also have fun while you lounge out. You can enjoy your downtime by drinking hot cocoa, binge-watch a new TV show, or play some board games and card games with your friends. In case you're on your own, you can always spend some time catching up with your family or chatting with your friends.
If you like and follow sport, there are many ways to keep excited about what's going on, you could even register on a betting site for a bit of excitement. There are a ton of reputable betting sites online like novibet.co.uk, for example, that is also accessible from your smartphone. You can bet on football, rugby, tennis, and many other sports.
5. Head to the market and buy local produce

Image by Pexels
Because you're on holiday and you're enjoying your time in a new location, a great idea is to to head to the market and check out the local produce. Local businesses invest a lot of time and care into their homegrown fruits, vegetables and various delicacies, you never know what you can find. You get to eat fresh, delicious food and purchase local cheese, cured meats, jams, sweets, chocolate, alcohols amongst a few things. This is a great way to spend a day learning about the area (via your belly) and support local businesses.
6. Go skiing

Image by Banff Sunshine Village
Nothing will make your holiday more memorable than skiing. This fun activity will leave you feeling refreshed and energised, with a smile on your face. It's a perfect way to leave your daily worries behind you, and enjoy yourself. You get to explore totally different terrain, fill your lungs with crisp, cool mountain air, and take in stunning scenery in front of you.
If you've never learned how to ski, now that you're on holiday, it's the ideal time to take up skiing. You can come a long way in a space of a week. Most resorts offer classes for every level, it's actually recommended that no matter how good you are, it's a good idea to have a lesson every once in a while to ensure your technique is keeps on improving. Group lessons can also be really fun as you will likely meet new people of the same level and desire to ski. Don't forget to bring a ski jacket either as normal jackets simply don't cut the mustard.
7. Explore the resorts

Image by Julius Silver
In case you aren't into skiing or snowboarding, there are a lot of other exciting activities that you can do on your holiday. From walking around the villages and towns of the resorts to more exhilarating activities that you can do alone or with a friend, such as; sledding, sleigh rides, paragliding, snowmobiling and husky rides to name a few!
Besides, you can also explore the ski resort and see what else it offers for its guests. You can always participate in any interesting pass times that suit your taste, like wine tasting, cheese making or visiting museums. Furthermore, when you aren't hitting the slopes, there are plenty of relaxing treatments that you can take advantage of, like a revitalising massage or a facial. Lastly, don't forget to visit the shops, and pick the perfect souvenirs and gifts for your loved ones.