Vacation rentals for families with children in the Netherlands: nice vacation parks and cottages
Are you looking for nice vacation rentals in the Netherlands, nice for yourself and for the kids? I collected my favorite vacation homes, glamping locations, and vacation parks. And secretly a few nice hotels as well.
We regularly go to a vacation home in the Netherlands with the kids. So we have been to many places on this list. For some of them, we have also written a review. Others are still on our wish list.
Vacation homes for families with children in Groningen, NL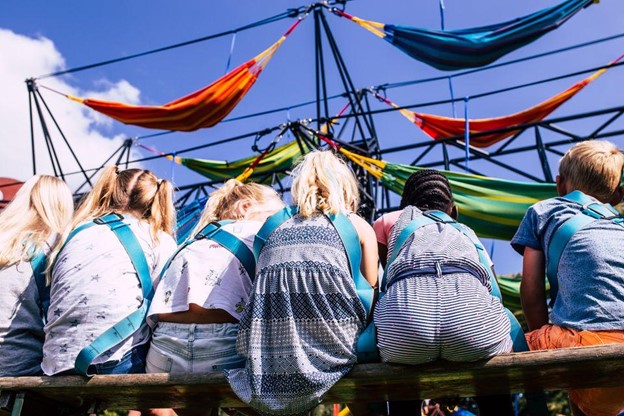 Landal Natuurdorp Suyderoogh in Lauwersoog is located on the Lauwersmeer. So this is a place for water lovers. There is a recreational beach and you can rent boats and canoes. In addition to the familiar facilities, there is also a nature experience trail and a zip line for children.
Vacation rentals for families with kids in Friesland
Stayokay Terschelling is a hostel overlooking the sea. There is a terrace and a garden. During vacations, there are activities for children, such as crab catching or a sports tournament.
At Landal Esonstad, many cottages are on the water, so you can moor a boat there. There are also nice fortified cottages. The park has a small indoor playground and also a playground outside.
et Wylde Pad in Twijzelerheide between Dokkum and Drachten: small-scale vacation park. There are hip cottages and apartments here, as well as yurts. "The perfect place to unwind and de-clutter, for adult wylde ones and little wylde ones." The kids play in Het Wylde Spel, which is the playground with a sandbox, trampoline, and playground equipment. You can take a dip in the Pingo, the little pond between the cottages. There is also a restaurant and breakfast service. Sometimes there are events.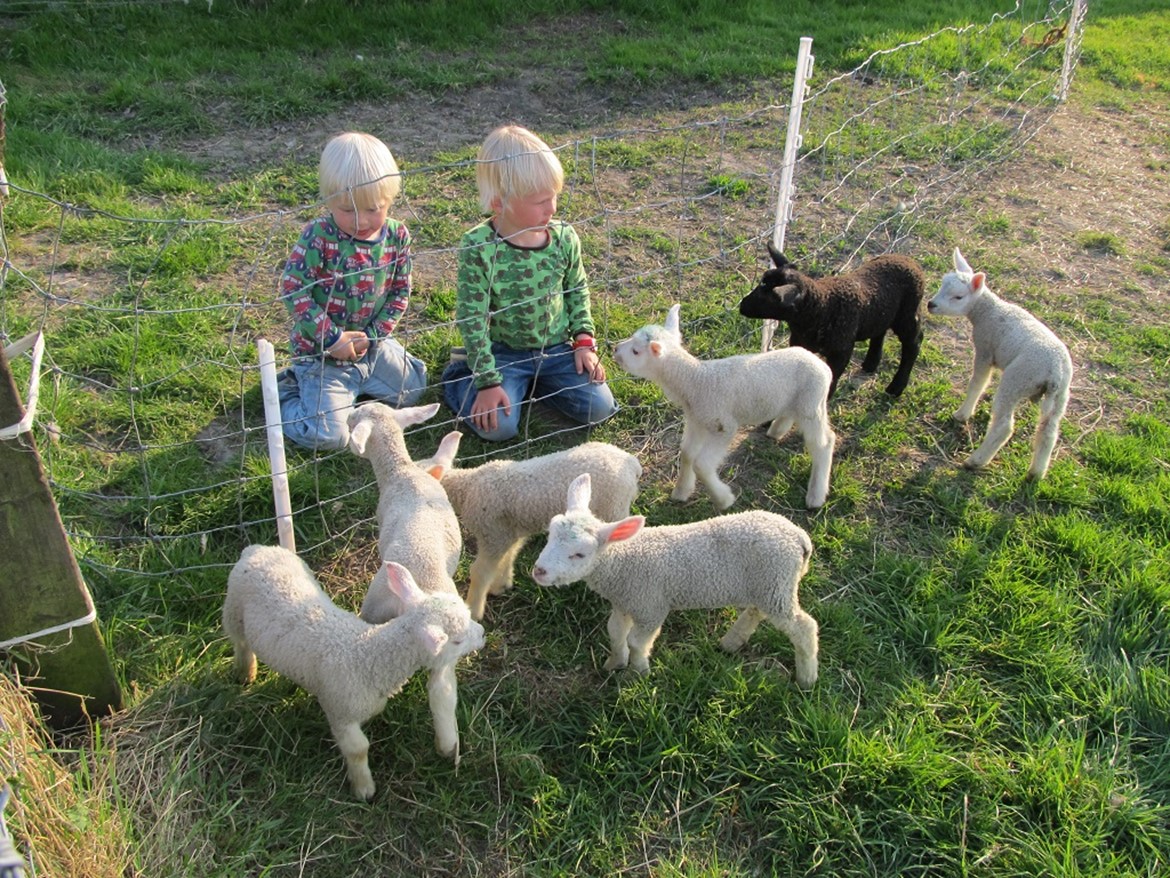 Luxury camping at the farm is possible at FarmCamps de Geele Bosch in Oldeholtwolde near Heerenveen. Besides cows, there are horses, donkeys, goats, dogs, bunnies, and cats. There are also playground equipment, Water Fun Meadow, a viewing window at the milking pit, a farm store, homemade farm ice cream, and a covered wagon ride. The safari tents have their own toilet.
Vacation homes for big families in Drenthe
Vacation park Diana Heide in Amen near Assen is located on the edge of National Park the Drentsche Aa. There are playgrounds, an air trampoline, table tennis, mini-golf, and go-karts. There is also an eatery, beach pool, and beach volleyball.
Norgerberg in Norg near Roden is a nice campground with many amenities. A swimming pool that can be covered and a large wooden playground. There is also an experienced trail, soccer cage, basketball court, table tennis, and wellness. You can rent beautiful bungalows, chalets, safari tents, and a tree house here.
At d'Olde Kamp in Ansen near Hoogeveen, a goat also lives with you in one of the cottages. You also take care of this goat. Miriam has it on her bucket list "Goats sit behind glass in their own pen, so funny." In addition, you can also sleep in a treehouse.
Hof van Saksen in Drenthe is a super luxurious park. With stylish cottages, a beautiful lake, luxury restaurants with children's play areas, and a beautiful swimming pool.
At Farmcamps Hoeve Sonneclaer in Fluitenberg near Emmen, you sleep in safari tents and lodge tents at the farm. On an organic farm with dairy cows also ponies, sheep, goats, chickens, rabbits, and an alpaca. You can get your farmhand's diploma and play farmer's golf. The tents have their own toilet; some also have bath trailers.
Vacation homes for families with toddlers in Overijssel
The Vechtdal and the Weerribben
De Weerribben in Paasloo is a small-scale villa park. Among other things, there is a small swimming pool, climbing forest, playground, go-karts, tennis court, and animal pasture. It is not far from Giethoorn and from the Orchideeënhoeve.
Huttopia de Roos in Beerze near Ommen: the first Huttopia campsite in the Netherlands, formerly the De Roos campsite. With swimming jetties on the Overijsselse Vecht and a small beach in a branch of the Vecht. There are several playgrounds between the sites. There are also sports fields and a kite field, when we were there guests organized percussion there every evening. In summer there is a food truck and a bar with board games. In addition, activities for children are organized. There are also chalets and rental tents with private bathrooms.
De Lemeler Esch near Ommen is a campsite with a hiker's hut, forest lodge, and chalet. It has playgrounds on the fields, a swimming pool, nature play, a kite field, Boscafé, and a haystack. Sometimes yoga is organized, including children's yoga and family yoga.
Twente and Salland
Vacation park Mölke in Zuna is located between Rijssen and Nijverdal, on the green Sallandse Heuvelrug. This is a somewhat larger stylish vacation park, with many facilities, on the river Regge. You can camp here, also with private sanitary facilities, but there are also chalets and mobile homes.
Erfgoed Bossem near Oldenzaal is an estate with an old farmhouse and all kinds of special places to stay. For example, safari tents and mini cottages, and small campsites.
Hof van Salland in Hellendoorn has a hotel and vacation villas in the countryside. There is a restaurant, swimming pool, tennis court, and playground with an air trampoline.
Buitenplaats Holten in Rijssen: small-scale vacation park at the foot of the Helderberg. There is a swimming pool, petting zoo, and playground.
De Lindenberg in Holten: small vacation park. With an outdoor pool, restaurant, indoor playground, outdoor playground, air trampoline, miniature golf, bowling alley, and small library.
Natuurhuisje Herikerberg has safari tents in a small park near Markelo. There is a playground, go-karts, sauna, bike rental, sandwich service, and BBQ.
Vacation rentals for families with children in Gelderland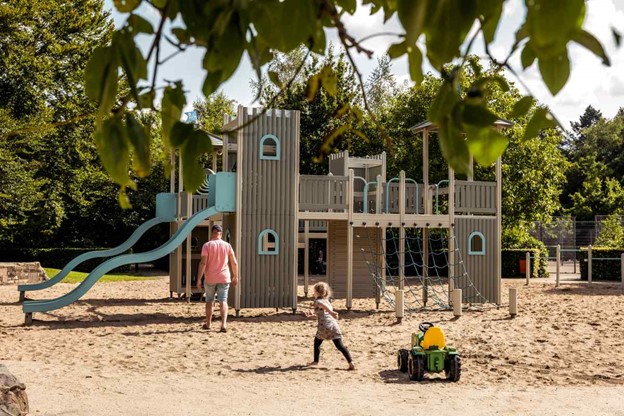 The Achterhoek
Nature cottage in Epse near Deventer: stylish cottage designed by Piet Hein Eek. In the woods, near Deventer. You can sleep here with 8 people. There is a trampoline, swing, and outdoor stove with a pizza oven. You can book this cozy vacation rental home at Karta vacation rentals with seasonal discounts.
The Brenschutte in Laren near Lochem is a fine bed and breakfast in a beautiful spot in Achterhoek. Suitable for a weekend for two or with your little one. During this vacation, you can relax and follow coaching.
Stayokay in Kring van Dorth near Lochem and Gorssel is a hostel with a special wooden exterior. With a terrace and garden with a campfire place. There are many facilities for children, such as a playground, sports field, and table tennis. There are also regular children's activities.
De Twee Bruggen in Winterswijk is a stylish and luxurious vacation park. With a sauna, indoor pool, and outdoor pool. There is also a playground, sports field, canoe, tennis, mini golf, go-karts, and bicycles.